Welcome to The Atelier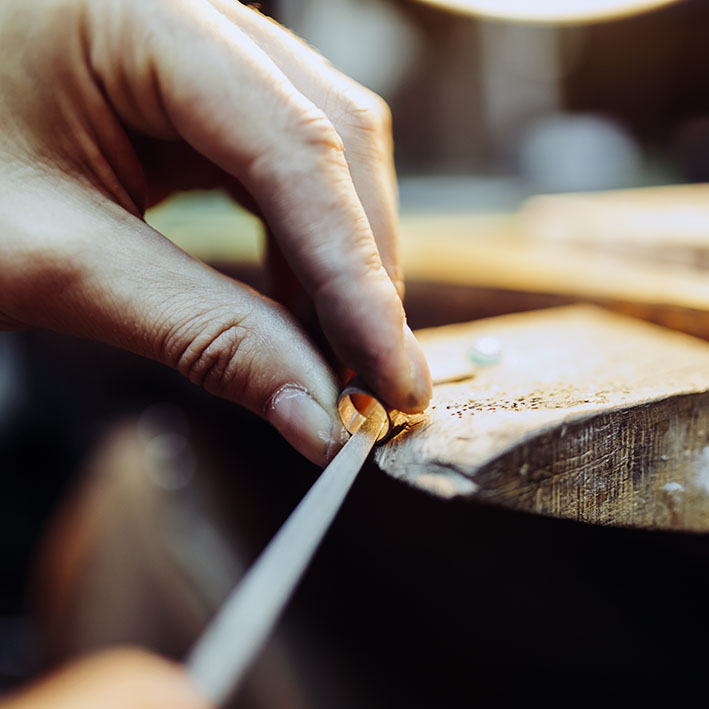 100% Sourced and made in Europe
100% Exploitation-free
100% Compliant with the highest internationally-recognised standards
100% Guaranteed to catch the eye
This is where Montluc can transform the diamond jewellery of your dreams into a unique reality. Any kind of precious metals. Any size. Any design. After all, since when did a dream have a limit?
So, you have an idea. You have a certain carat or a specific design in mind. Presumably, you have a budget too. And we take it from there.
Maybe you're inspired by roses… or butterflies… or a simple solitaire. Maybe you have a photo of something that's caught your eye. The more you can tell us about your perfect piece, the better placed we are to start bringing it to life.
We always work in close consultation with you
A first sketch captures the essence. You tell us what you think and we draw the next version. Repeat. When you're 100% happy we bring it into a real design – a very accurate painting on chalk paper. And then the magic begins.
Montluc uses traditional jewellery and goldsmithing techniques, a craft not so many people know or use any more. And please note: we craft every single component by hand, rather than simply assembling bought-in parts and calling that 'handmade'.
After all, this is a piece for you but also, perhaps, for future generations. The final result is not just a work of art. It is your work of art.
Perfection is an in-depth, time consuming, painstaking process. And it's totally and utterly worth every second.
To find out more or talk to us about an idea, email The Atelier directly.
Fredrik Stark, Co-founder
How we bring your perfect piece of diamond jewellery to life
Tell us about your idea and your budget, together with any images you might have.
We provide initial sketches for your feedback either via email or in person.
We repeat this process, honing and refining until you shout 'that's it!'.
We turn the final sketch into a detailed design that brings your idea to life.
Now we are in a position to provide an accurate estimate.
Happy? Now we source the highest quality materials.
We create every component and assemble your piece completely by hand.
Your dream is now a stunningly unique, exceptionally high quality reality.
Congratulations.
All you have to do now is attend as many dinners, events and parties as possible.
Unbelievable customer service! Montluc's Atelier helped me to create my perfect piece of jewellery, a beautiful 1.5 carat solitaire ring. The quality of the diamond, the design, the craftsmanship, not to mention the value… it's all absolutely stunning."